About Us.
ÇAPALI entered in car upholstery sector as a brand in 1998.
Our company, which is aware of the fact that the way of sustainable growth is investment continuously converted its earnings into investments with suitable attempts for industrial and technological developments and have started to be pronounced as one of the leading brands of Turkey. The foundation of our upholstery brand, which brings fashion to doorsteps today with hundreds of choices of varieties and designs was laid with car upholstery experiences which were our own production. We present carpet, slipcover and interior drapery production which started in 2000 and our productions produced in our own plants t...
E-Catalog
Review or download the catalog.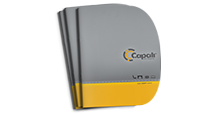 E-Newsletter
Çapalı mail to subscribe to the newsletter, please fill in the form below.